Arndt family
Julius Arndt was born in Neustettin 12th June 1847. He married Johanna Elise Behrend (b 1848 Koslin) circa 1884. He operated a paper mill, possibly owned by the Behrend family, at Tsarskoye Selo,  near St Petersburg, but around 1890 the mill failed and the family returned to Berlin. Julius died 8th Jan 1899 at Breslau.
The family are recorded in St Petersburg where the names are Julius Aron and Johanna Behrand. Two children are noted, Elise Arndt [Aron], b 11 Oct 1884 St Petersburg, and Paul b. 26 Dec 1883 St Petersburg. It is known that Paul died at an early age; the fate of his sister is unknown.
Their surviving son, ErnstJulius, was born 8 Jan 1887 (27 Dec 1886 by the Julian calendar) at Zarske Selo and christened in St Katherinen Kirche, St Petersburg. In 1907 he travelled on the SS Grosser Kurfurst from Bremen to New York to work as a merchant. His mother is given as Elise Arndt of Grossmanstrasse 15, Charlottenburg and he is going to visit his friend Martin Dresel of 137b Golden Gate Road, San Francisco. In 1908 he went to Pittsburgh where he learned to ride.

During WW1 he was in the German Signals and was decorated with the Iron Cross 1st and 2nd class. He met his future wife, Clara Margarethe Juliusberg, while he was visiting a friend at a medical spa and detailed correspondence depicts their early life. In the 1930s he was manager of the engineering firm Schenk in Darmstadt and managed to arrange for his transfer to England with his family in 1935 as their English representative. He applied for UK citizenship citing his Jewish descent but this was not granted until after WWII. For most of the rest of his life he lived in Birmingham where he died in 1950.
---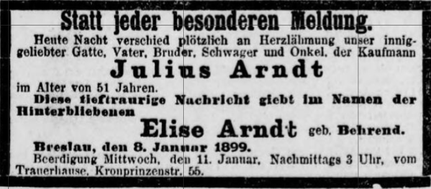 Last night our dear husband, father, brother, brother-in-law and uncle, the businessman Julius Arndt suddenly passed away at the age of 51. This sad news is given in the name of Elise Arndt, born Behrend. Breslau, 8 January 1899. Funeral Wednesday 11th January, 3pm from the Funeral home, Kronprinzenstr. 56.
---
---
---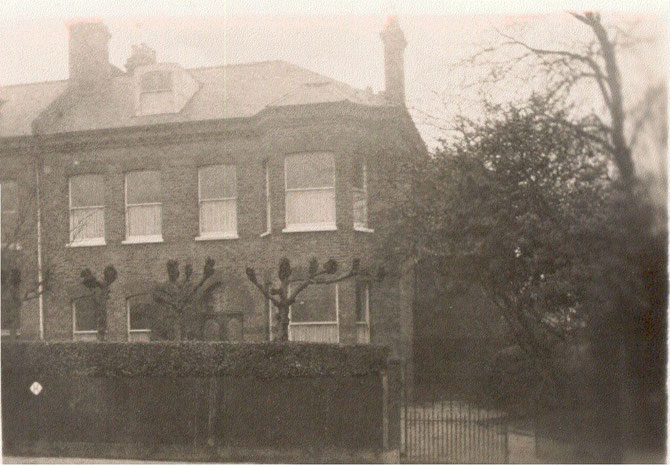 ---