Commander Frederick Marsh Sergeant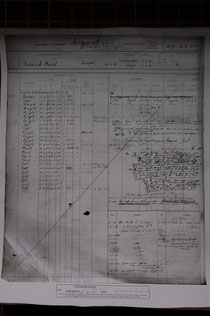 F M Sergeant R.N. Reserve service record 1896 - 1905.
Ships used for drill:

President
Eagle
Peel
Eagle
Engagements:
97 appointed to 'Prince George' Niger Coast Protectorate
1998 2 mate on 'Cymric'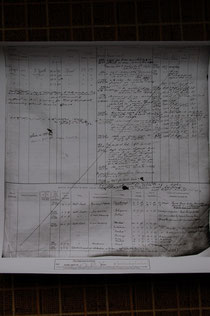 Service record to 1909.

1896 Gunnery & torpedo course on Cambridge and 'Vernon'
1896 Manoeuvres on Iphigenia
1896 12 mos training on Pallas, Fearless, Endymion, Revenge, Anson, Naiad
1897 selected to assist at celebration in London. Appointed to Victory.
Press cutting 12 November 1904 Liverpool Worthies Eq 429 vol 4 p.156 Journal of Commerce
Captain F M Sergeant, who is a lieutenant in the R.N.R., has succeeded his promoted chief to the position of chief examiner of masters and mates and secretary of the Local Marine Board. In this he has been most fortunate, for he is a young man, one of the youngest, if not the youngest we should say, who has ever occupied that important post in Liverpool. But he is none the worse for that fact, because he has now had seven years experience as an examiner, and prior to that he had an excellent sea service, including command in sailing ships and as an officer in important steamship lines, the last of which was the White Star line.
Captain Sergeant is eminently fitted to occupy his present position, having been a student all his life. At one time he commenced study for the medical profession, but not seeing a sufficient future in medicine he retuned to sea and applied himself to problems of navigation and nautical astronomy which were more in his line and in these he won distinction at the South Kensington Science and Art examinations. He is endowed with an amount of natural patience and forbearance, and no better testimony to this is to be found that the fact that during his seven years of examinership he has never we believe had his judgement or fairness challenged by an unsuccessful candidate, a manner which speaks volumes for the man, for in that period he must, in the very nature of things, have sent many hundreds of "ticket" seekers back to their studies or their ships. Altogether it may be safely said that Liverpool can still take great credit in having at the head of its Board of Trade examining staff a thoroughly capable, experienced and unprejudiced gentleman.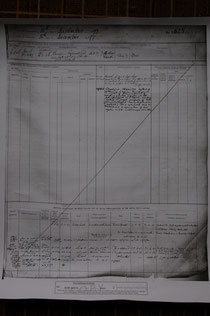 1925 advised that he is ineligible for promotion to the rank of Capt RNR (Retd)

1928 appointed by Govt. of Union of S Africa to inaugurate a system of examinations of seagoing masters and mates at all principal ports in S Africa.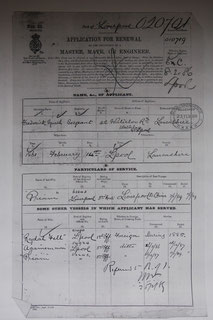 Application for renewal of the certificate of Master, Mate or Engineer in 1889
Service record:
Priam 1887-9
Rydal Fell 1885
Agamemnon 1886-7
SS Rydal Fell was built in 1882 and first operated by the Rydal Fell Steam Ship Company. Renamed the Maurizio in 1916 it was topedoed and sunk by UC.20 26/8/1917.
SS Agamemnon was one of the first successful long-distance merchant steamships. She was built for the China trade and competed with Tea Clippers before and after the opening of the Sue Canal in 1869.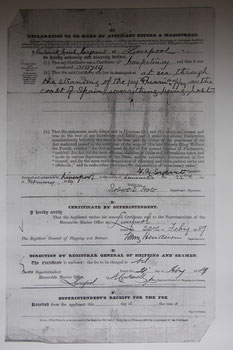 Declaration concerning loss of certificate of competency 'at sea through the stranding of SS Priam on 11/1/1889 on the coast of Spain everything being lost.'
It was wrecked on one of the Sisgarsas Islands near Corunna while on a voyage to Shanghai carrying general cargo. Five of the crew were lost and of five passengers, only one survived.