The children of Mary and James Lilly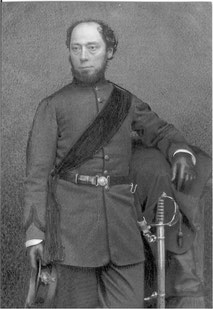 John Henry Lilley
John was born 2nd February 1817 in Marylebone and christened 2nd February 1819. He started work for HM Customs aound 1837 and in 1839 was living at 3 Chapel Street, Holborn. he had married Elizabeth Taylor on 17th March 1838 at St George's Bloomsbury. They had two children, Mary Amelia and Henry Gunning. Only Henry married and had children; his early death meant that his father had to assume responsibility for the upbrining of his eight grandchildren.
In 1864 John Henry Lilley's his address was 100 Camberwell New Road, By 1871 he was an inspector general of HM Customs living in Walton on the Hill, Lancashire.
By 1881 he was in Lambeth working as a Surveyor General HM Customs. He died 21 January 1901 at 5 Thurlow Park Road. He left an estate of £17,156 17s 9d.

A large correspondence and other papers survive.
---
Anne Matthews Lilly

Their daughter Anne Matthews Lilly was born in Dundee 17th Oct 1814 and christened exactly a month later. She married William Runting 16th December 1837at St Giles, Middlesex. The couple were forced to leave England and go to South Africa and thence to Australia. Her father forbad any contact with his daughter and son-in-law, for what reason, we do not know.
On Anne's death, 8th October 1851, in Adelaide, a lock of her hair and a miniature photo were returned to her mother but it was to be another ten years or more before the grandmother was able to correspond with her grandchildren.