James Grundy
Educated at Repton and then Hertford College Oxford. In 1916 James received two commissions, becoming a lieutenant in the Leicester Regiment, Cadet Company ,
from the unattached list for the Territorial Force, serving with the Repton School Contingent. He then served in France, 1916-1918 with the Royal Field Artillery.

---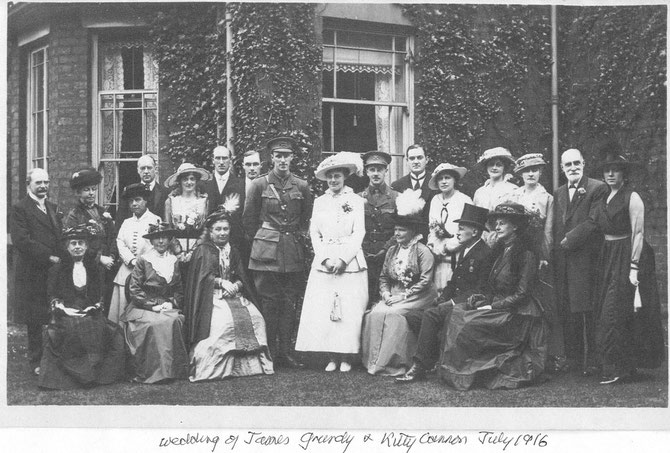 Left to right:

Standing: Herbert Knowles, Alice Mather (groom's aunt), unknown, Wilfred Grundy (brother), woman, man, man, James Grundy (groom), Kitty Cannon (bride), Geoffrey Grundy (brother), Francis Grundy (brother),  Beatrice Cannon (sister),  Gladys Hunter, Miss Heborter [?], unknown, unknown.

Seated: Amy Knowles, unknown, Mary Grundy nee Mather (groom's mother), Emily Cannon (bride's mother), William Cannon (father), Ada Holden (bride's aunt)