John Henry Lilley
John Henry Lilley born 12th August 1892 died 1921.
He was the son of Henry Richard Brodie Lilley and Flora Ann Tolhurst.

He went to Australia before WWI. Both his parents had family connection there.

He joined the Australian army, 26th Australian Infantry Battalion, as a private and served at Gallipoli.
He was reported wounded in The Times 22.5.1917 and also injured by gas.

He was awarded the Military Cross 1.1.1918. He returned to Australia with his brother and set up a sugar cane farm.

He died in an accident in Ayr, North Queensland 14th August 1921. He was with his brother and was thrown from their sulky (carriage) and fatally injured his head.

---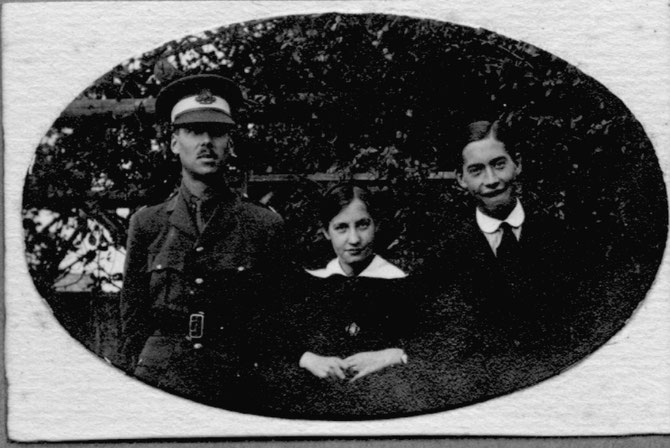 Helen Flora Lilley in the middle with John Henry on her right in uniform.

---
Tonbridge OTC
jhlilleywwi.pdf
Adobe Acrobat Document
1.2 MB
---
Sent from Egypt
150821pc.pdf
Adobe Acrobat Document
1.6 MB
Sent from Egypt
150828pc.pdf
Adobe Acrobat Document
1.9 MB
Sent from Egypt
150902pc.pdf
Adobe Acrobat Document
1.8 MB
Sent at sea
150908pc.pdf
Adobe Acrobat Document
1.7 MB
Sent from Gallipoli
151023pc.pdf
Adobe Acrobat Document
1.8 MB
Silk Greeting Cards
16xxxxpc.pdf
Adobe Acrobat Document
2.6 MB
On demobilisation in Australia
20xxxxpc.pdf
Adobe Acrobat Document
1.2 MB
---
---
Australian Army War Record
Reports of his accidental death
jhlilleywwi2.pdf
Adobe Acrobat Document
2.4 MB